In the not so distant past, I never in a million years would have thought that I'd be spending my 21st birthday in Australia, let alone with my mom and youngest brother. It's pretty crazy the way things work sometimes.
I've been staying in Albany, Western Australia, which is right on the Princess Royal Harbor; beautiful old town, beautiful landscapes, beautiful ocean and beaches, and a very, very pleasant relief to the extreme heat and flies. I have yet to see 100 degrees or a single marsh fly while here. Correction from my last post: Albany is the first settlement in Western Australia, not all of Australia.
Mom and Patrick met me at the bus station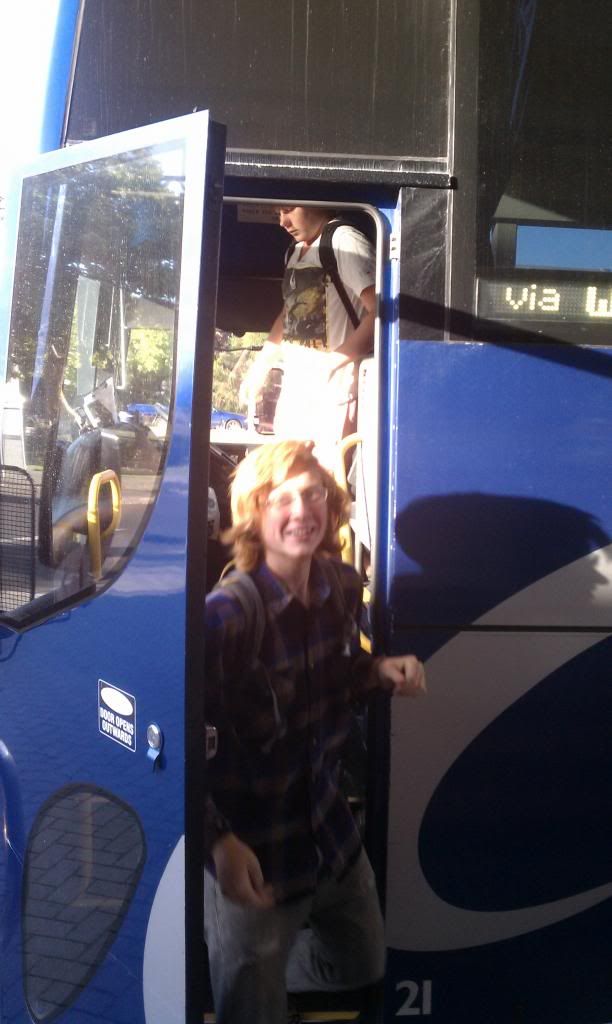 This creature is the thing I have to -err, I mean get to spend the next six weeks with.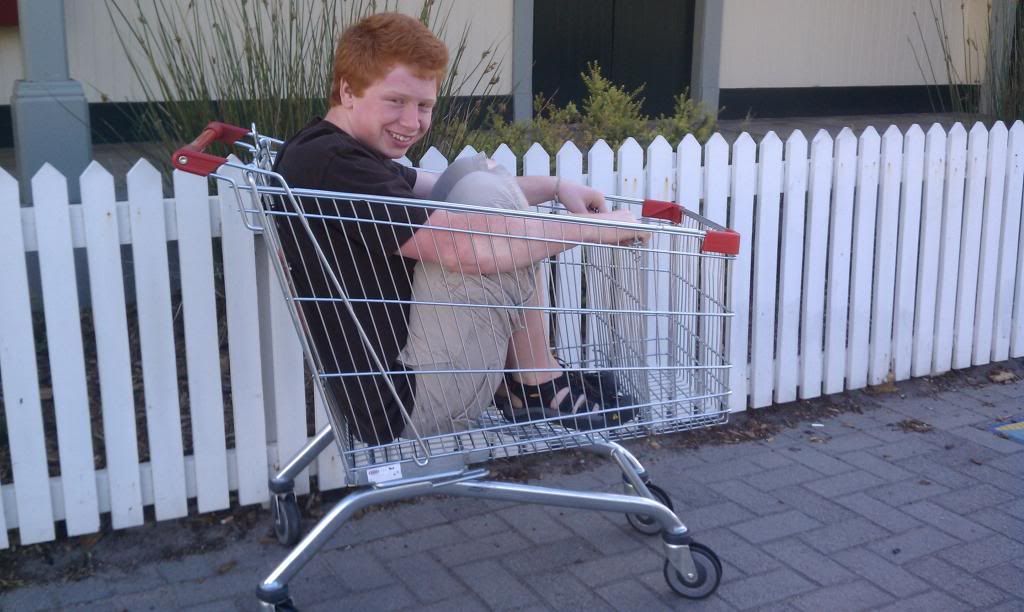 My mom, the artist, is teaching classes and workshops and things at the Vancouver Art's Center here in Albany. She and two other artists have accommodation in a house next to the center, which are built on the side of one of two hills that Albany is built between; from which, we get a great view of the bay and the wind farm built on the hills on the opposite side of the bay. It was here on the veranda, one day, that I was sitting watching the sunset when a flock of Pelicans (yes, a flock of Pelicans. No, I didn't know they flew in flocks either) appeared all at once from behind a line of trees and flew directly over the house, a few of which circled back for a second and third pass. A flying Pelican looks just as strange and awkward as a flying Peacock.
The next morning, my first full day in Albany, Patrick and I hiked up Mount Melville, the hill the Albany is built onto. The hike itself was fairly easy, and only a couple kilometers long, but we spent an extra hour or so climbing the boulders at the top of the hill. There are plenty of small lizards and skinks around here, and I even caught a quick glimpse of a snake before it slithered off a rock and into the grass.
You could see the house and Art Center from the top
There were some tight squeezes and precarious angles through the boulders
For my first few nights in Albany, Patrick and I stayed at the house at the art center as well, however we don't get free residency and it costs for us to stay overnight. To avoid this cost, we accepted the gracious offer of one of my mom's students to stay under her roof for a while. In exchange we have been helping her with various work around her place and as well as with her job (professional gardener/landscaper). She, Liza, and her husband Alan used to run a B&B from their home and cottage on their property just outside of town. They no longer run it, but the cottage is fully furnished, with its own kitchen, bathroom, and two beds, which is where me and Patrick stay for most of the week, returning to the VAC for a few nights to stay with madre.
So on Saturday the 26th it was back to the VAC (Vancouver Art's Center) for the extended weekend and to help set up an art exhibition for the three artists. The 26th also happens to be Australia day, and I was showing my patriotic spirit by sporting an Australia flag patch on my jeans, conveniently covering a hole I had worn through. In the morning I walked down the street to browse the weekly farmer's market, and got myself some fresh local honeycomb... yummmmm
My birthday was just about as perfect as I think it ever could have been. I woke up before six, as I have been nearly ever day now, to a beautiful sunrise that turned into a picture perfect sunny day. Mom made an amazing breakfast, then me and Patrick walked into town to the get next book in the series I'm reading. After lunch, the three of us walked back into town to a really neat organic store that my mom wanted to show me, where I bought the last ingredient (walnuts) for the bread pudding I was making for dessert. Mom and I spent the afternoon preparing meals and setting up for the party. I meant to take a picture of the finished dinner and desert I made, but I was four beers deep at that point and kinda forgot. I made a chicken cheese and rice casserole, and for dessert bread pudding with raisins, dried cherries and currants, and walnuts. I also made a topping for the pudding from a recipe that I found in one of my hosts' cook books. I know it sounds interesting, but it was absolutely delicious. Mashed avocado and bananas (recipe called for blended, but we didn't have a blender), with whipped cream and honey.
Birthday breakfast, french toast with home baked bread and apricot chutney, eggs, tea and OJ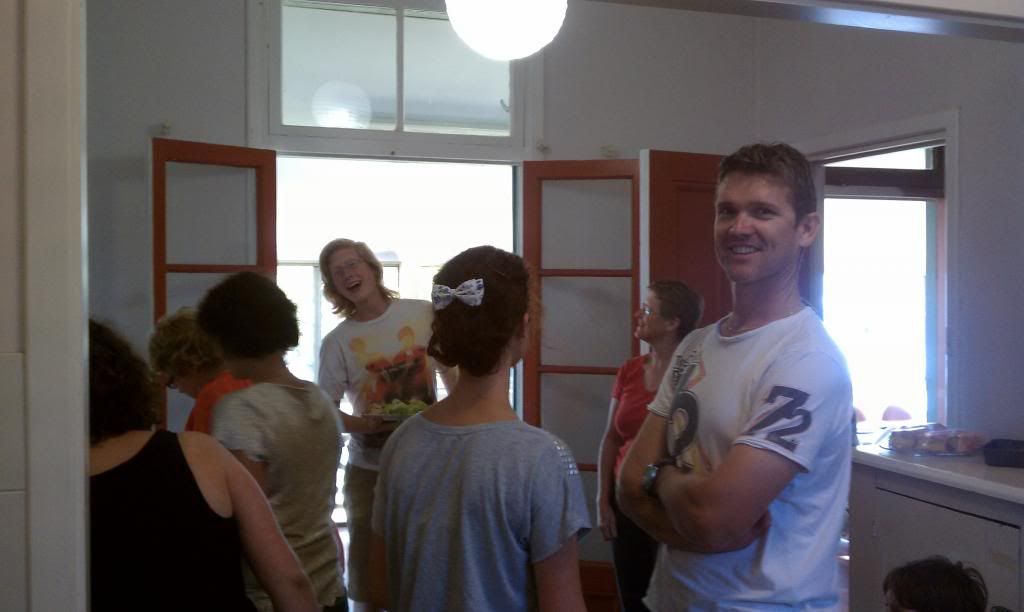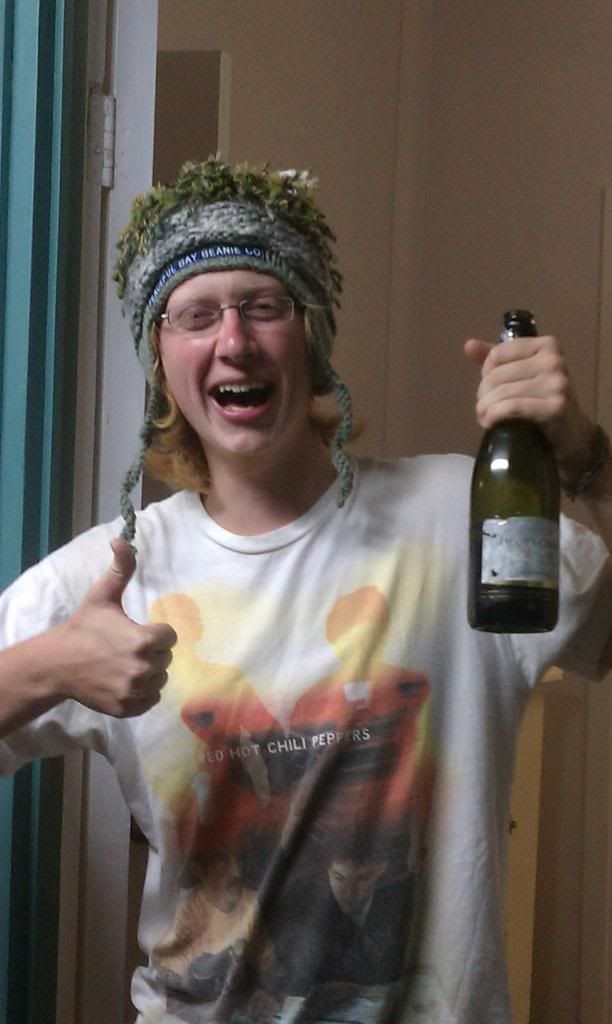 I realized something kind of neat while typing this. I have always wanted to have a summer birthday just once, so I could go outside and enjoy the day rather than freeze half to death. Well I finally got my wish this year :)
It's all been easy going here in Albany. Trim a few hedges, pull a few weeds, learn about plants, that's pretty much the worst of it. Reading, bush walking, playing in the waves, napping, cooking, eating, and writing makes up the rest. It'll be sad to leave on February 9th when we head to our Denmark helpx farm, but I'm also excited to go. They run a petting zoo of sorts; alpacas, kangaroos and wallabies, and - what I'm really excited for, as I haven't seen one yet - koalas.
Oh, and we're going kangaroo hunting tonight :)