I awoke early Monday morning, the 26th, to get to the bus stop 2 or 3 km's up Cairns' boardwalk. I was supposed to arrive 20 minutes early to the pick up location for the 7:00 AM departure. I woke up at 5:00 AM without an alarm. Thanks UPS, for making me an early riser :) I finished packing and checked out at the reception, then set out on my way up the boardwalk. Even though the morning air was still cool, the humidity was very high, and I was sticky-sweaty before long. I got to the bus stop a few minutes before the bus, and sat and waited with a half a dozen other passengers. I was pleasantly surprised to see my bus when it rolled up. It was a
Unimog
style vehicle, with the 'bed' converted into a ~18 person coach bus. This pleased my inner off-roader, because a Unimog military vehicle to an off road enthusiast is like a Ford GT Super Car or Nissan Skyline GTR is to a fast-and-powerful car enthusiast. The Unimog's axles are extra strong, and use complicated drive line technology to provide otherwise unheard of ground clearance.
Anyway, I instantly knew I was in for an off road adventure. The first hour and a half or so of the trip was spent on a winding, nearly deserted road right along the coast of northern Queensland. On one side of the bus (my side, window seat) was the ocean and the beach. On the other side were steep hills thickly populated with rain forest. Beautiful views either way I looked. Soon enough we curved off and headed up into the hills, and into the trees, though still providing glimpses of the ocean every once in a while. The further on we went, the rougher the terrain. The paved road ended and red-dirt and clay road took its place. Tire ruts and water channels carved their way through the road, and I felt like I was back in Michigan, two-tracking up north in my Jeep. Except this was countless times better because of the scenery, wildlife, and the fact that it was in Australia. At one point we had to cross the Daintree River on a ferry. The ferry was one of those cable-pulled types, with a cable secured to land on either bank of the river, and a motor attatched to the cable that pulled us across. Soon enough we came to a sign that read "4x4 Vehicles Only Beyond This Point". Past this sign, the road got even more rough, complete with river crossings. It was still technically dry season, however, so the crossing were never more than a foot deep. Every few kilometers there was a 'Cassowary Crossing' sign.
All of the stops along the way seemed to be in the middle of nowhere. There always seemed to be nothing around but rain forest, but then out of nowhere a backpacker's or rain forest resort or small town would appear from out of the thick trees, and we would stop to let a passenger or two off the bus. It was no different for my stop. Brad had told me earlier via e-mail to ask the driver to drop me at Degarra in Bloomfield. I had no idea what Degarra was, but I imagined it was the name of a store or street or something in Bloomfield. Nope. It was a corrugated piece of steel propped up in a piece of wood with 'Degarra' spray painted on it, with no buildings, people, or vehicles in sight save for Brad and his truck. All the roads here are red dirt. No gravel or pavement to be seen until you get into closest town, called Wujal Wujal.
Brad's place was only a minute's drive from the drop off point. We pulled into his driveway and came first to a small shed that he calls the 'Donga'.
"This is your house," he said. "It's a bit of a work in progress, but it's got everything you need." The floor and walls are unfinished, but it's got a satellite TV, an AC unit, and a tea kettle. Good enough for me! I dropped my bags and we went up to the main house where he gave me the grand tour of the three rooms, which took all of 30 seconds. One huge main room with a kitchen, dining area, and living area, with access to a huge veranda; a bathroom; his bedroom. It sounds simple enough, but I really like the house and property. The whole house is set on a hill, so the veranda is raised, essentially a second story deck, giving views above the trees and into the rain forest canopy.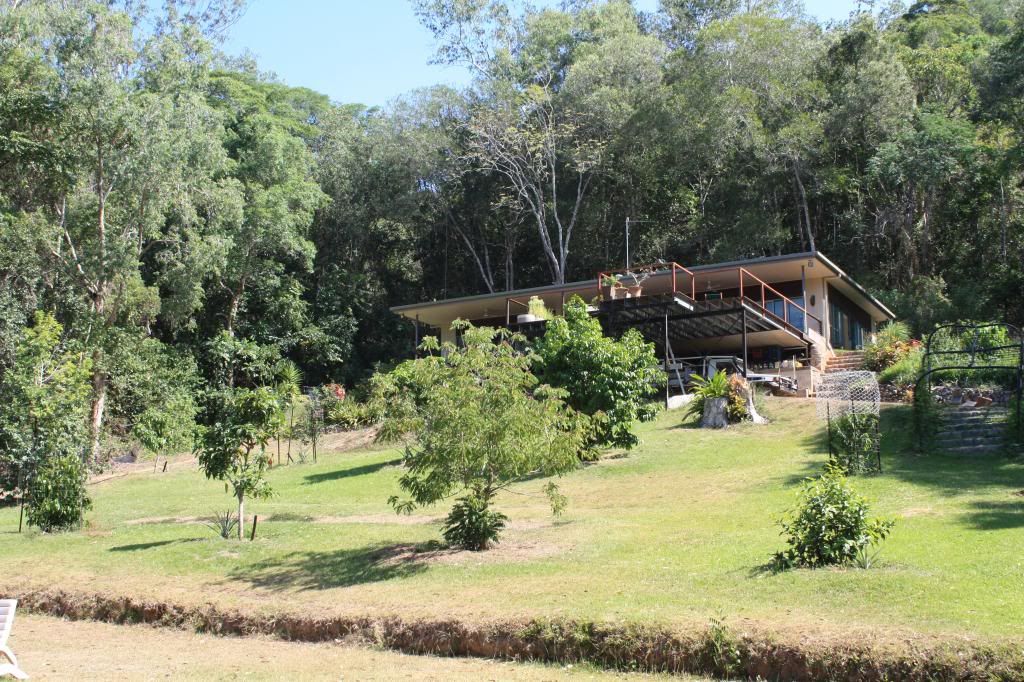 Brad brews his own beer and spirits. He doesn't have any spirits made at the moment, but his beer is quite good, and pretty strong too.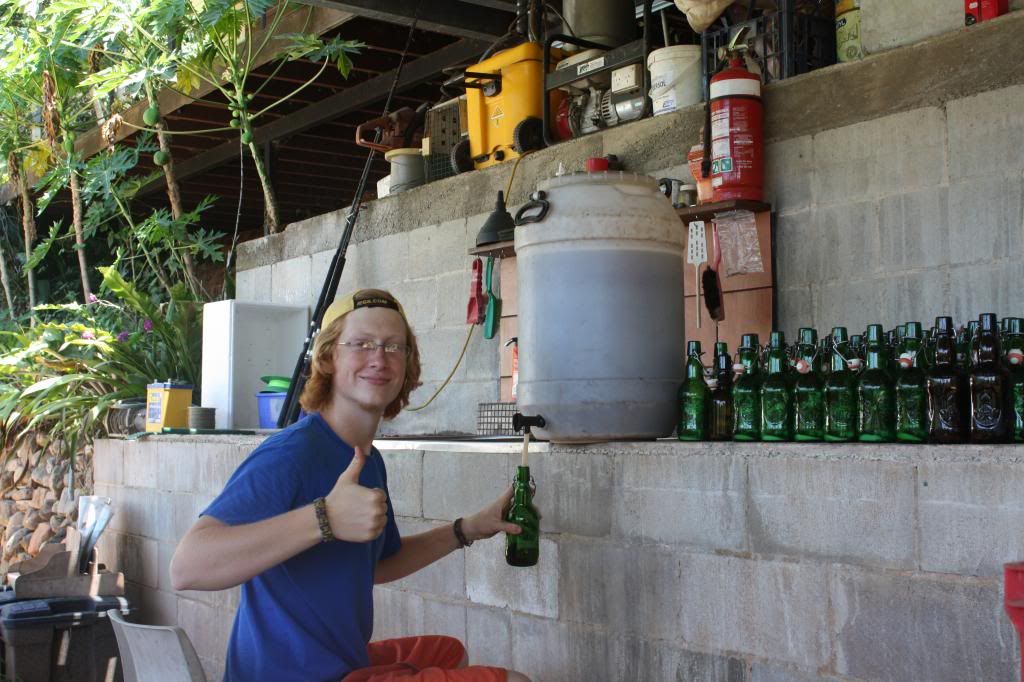 On his property, Brad has a Purple Mangasteen tree, six or seven banana trees, a grape vine, tomato plants, plenty of young pineapples, Pumpkin plants (not the Halloween type pumpkins), a Tamarind tree, the seed of which is used in making curry and can be picked off the tree and sucked on like a loli-pop; a Mango tree, Paw Paw trees (Papaya), a Sour Sop tree, Bread Fruit tree, Custard Apple tree, and some others I'm sure I'm forgetting. A job we have been working on is making some raised garden beds for veggies.
Purple Mangasteen, tastes a bit like kiwi, but not really like anything else I have ever eaten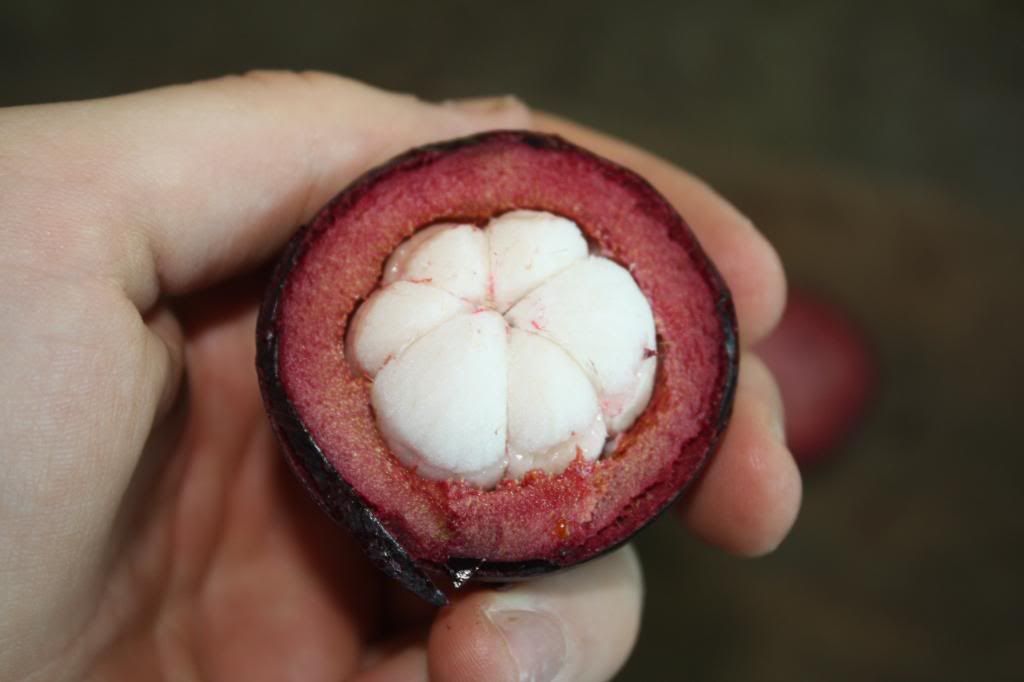 Brad has two cats, a dozen or so chickens, and four peacocks that kind of just hang around the property.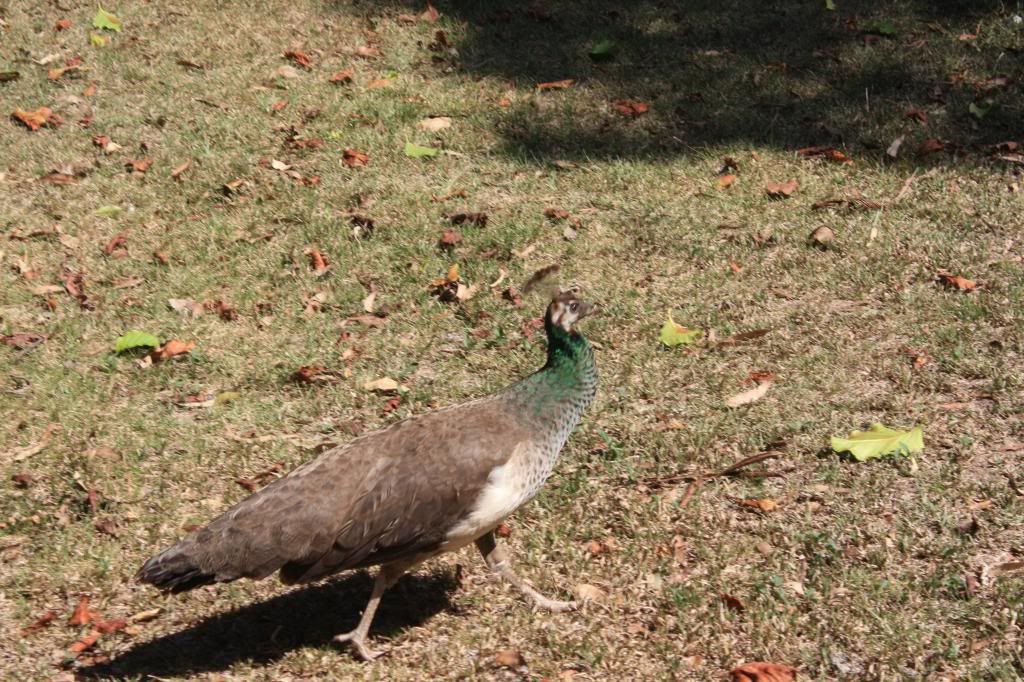 It turns out peacocks can fly quite well. I always thought them to be like chickens; only able to hop and flutter a few feet in the air. I figured this out when one of the males flew right over my head and up into a tree 50+ feet up. It was a strange sight to see the big bird flying up there with his long tail feathers trailing behind him.
Huntsman Spider. Nearly as big as a Tarantula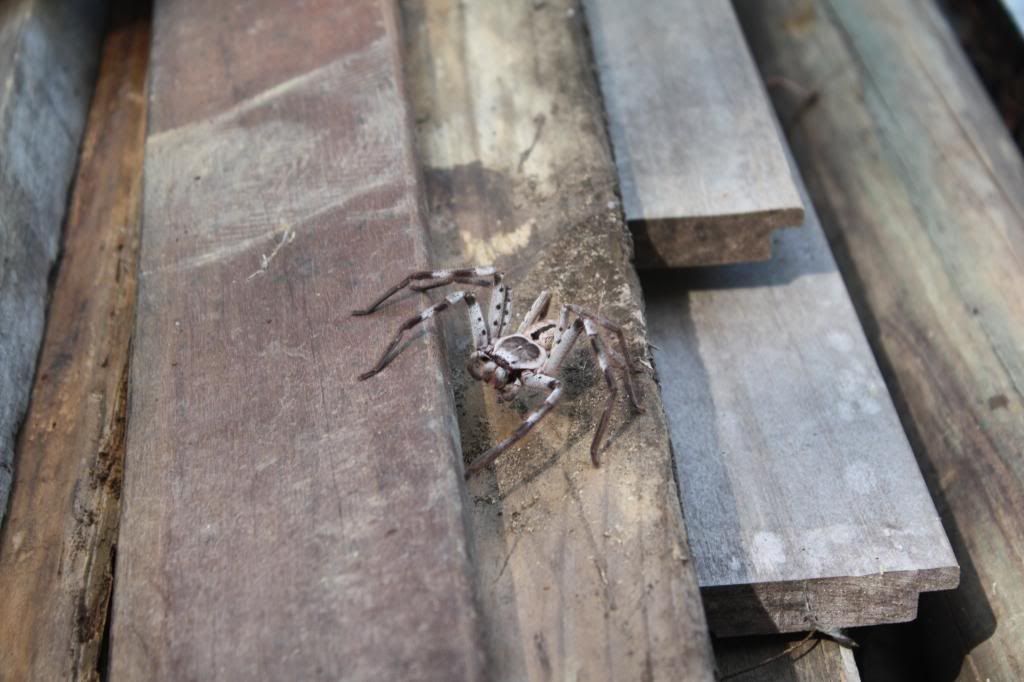 We have been on plenty of adventures already, and I have met a few of the locals. There is plenty more to write about, including butchering a rooster, and the best views I've seen in Aus yet. And of course plenty more pictures. All of which will be included in the next couple of entries. For now, I'll end it here, as I am about to take the motorbike up to the creek to have a swim.
Cheers! Happy Holidays and all that good stuff!